UK
Broker
Awards
Shortlist
for
UNA
Alliance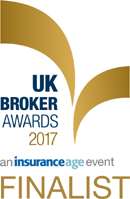 UNA Alliance have been shortlisted as a finalist in the Insurance Age UK Broker Awards. In a new category for 2017 UNA have been shortlisted for Broker Network of the Year.
Now in their 24th year, the UK Broker Awards are the leading platform for national recognition within the insurance broker market. 
The awards ceremony takes place on 16th September at the Brewery in London.