Ryans
Shortlisted
for
2
Awards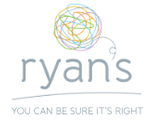 UNA Member, Ryans is delighted to share that they've made it into the final few companies competing for not just one, but two, coveted wins in the UK Broker Awards. Shortlisted for both the Customer Service Award and the Training Award, they're extremely proud of the work their teams do, both internally and for our customers, to ensure we all have the skills and experience to do our best.
The two awards that they've been shortlisted for dovetail together to highlight the continuing commitment of their people to making a difference, with employee engagement and development at the core.
Nicci Dedman-Munro, HR and Facilities Manager, said:  "We know that it's our people who help our business thrive. So, we invest in their development, giving them the knowledge to shape their roles, based on their strengths and interests."
Advocates of making insurance a career choice, not just a job, our people strategy includes recruitment from experienced and non-insurance backgrounds.
"From our apprentices through to our most experienced recruits, every employee is enrolled onto our training and competence scheme, delivering planned career development from induction, with regular 'check-ins' and annual reviews ensuring continuous progression. We're also pioneering shared learning throughout the industry through our involvement with UNA Alliance."
Speaking about the Customer Service Award, Robin Belsom, Managing Director, said: "Ryan's is a business that's built on customer service. And that's a fact that's backed up by our customers themselves, who have helped us this year, for the fourth year running, to acheive a Feefo Gold Trusted Service Award and a score of 4.9 out of 5 for service.
Being shortlisted as a finalist in the UK Broker Awards is wonderful recognition for our teams. We're up against some great competition, and we're very much looking forward to finding out who picks up the award at the event in September."