New
UNA
Board
Member
-
Gary
Uren
Having held our first UNA Board Meeting of the year, we were delighted to welcome a new UNA Board Member.
Gary Uren of SSR has recently taken over the helm from his colleague John Ludley, and here we learn more about his career in insurance....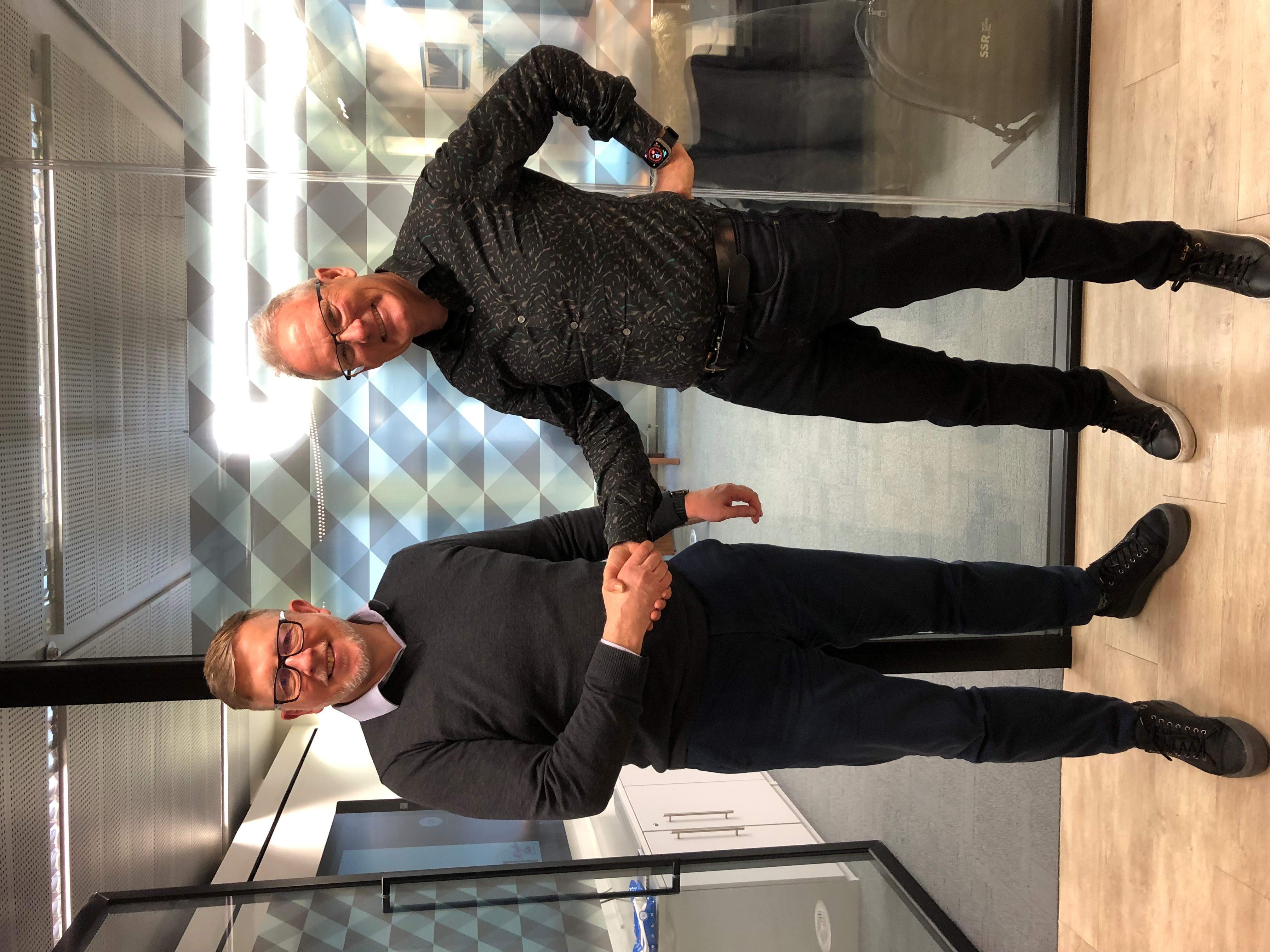 (Gary Uren pictured left, taking the baton from John Ludley)
Gary, tell us a bit about your career to date and how the world of insurance has altered since you started out? 
After being a bit all eggs in one basket trying to be a pro footballer, I started out in insurance in 1986 under the government training scheme at that time.  As my father bluntly put it, get out there and start earning some money.  Ironically, I was nearly doubling my insurance weekly wage of £27.50 playing amateur football every week at the time! 
So insurance life began at Stewart Wrightson (now Willis) and thinking back, the country was in a bit of a mess.  Just out of the coal strikes and colliery closures, we had the financial crisis in 1987, the Piper Alpha disaster in 1988, which on top of shocking loss of life, had a massive impact on the insurance industry.  Amongst all that in 1989, I left Stewart Wrightson with John Ludley and some other colleagues to start SSR.  Working life at the start of my career was great fun, at Stewart Wrightson, we were barely out of the pub, the office had a film of smoke in it and the odd bottle of spirits in the bottom drawer.  You'd start the day in the post room, write memos, be on the phone and use the telex machine in reception. Once you had sent a dictated letter, or memo, you'd put the file out for filing and it would be a couple of weeks before you heard anything more and if you were lucky found the paper file again.  It's fair to say life has changed a fair bit from back then and I remember those early years fondly and especially the people and how easy going life felt.  Times were tough, but I feel I started out at a great time, that gave me a great perspective, plus I grew up with the music of the 80's & 90's, so overall I can only feel fortunate.
You've been at SSR for over 30 years now, tell us why it's such a great place to work?
It will be 34 years this coming August and looking back, I'm not sure how we survived 6 months let alone 30 plus years.  SSR had from the outset incredible support from Alan Sutton & Mike Baldwin of Sutton Winson.  After the sad death of Alan, Mike kept things going and longer term under Sutton Group Holdings, SSR continued to develop and thrive, until 01.01.23 when the SGH sale including SSR and Sutton Winson completed with Acrisure and we now start a new journey with them.
As to why SSR is a great place to work, it is probably best for others to comment.  We've always tried to make it a happy and relaxed environment, where the staff feel part of something, are given opportunities to make a difference and feel well rewarded and looked after.
We've got a large number of the team who have been here for over 15 and 20 years, so they have been on a large part of the journey with us.  It's been great see them and the business develop together, to what we are now.
SSR have been UNA Members for over 3 years now.  How has Membership of the Alliance assisted and supported you in that time?
We're a bit different to the other members, being an MGA business.  That said, our team have genuinely enjoyed spending time with and getting to know everyone and their challenges more closely.  We've also greatly benefited from resources around training, marketing and compliance particularly.
You've now also joined the UNA Board, how do you envisage shaping and influencing the group during your tenure?
UNA is made up of fantastic businesses, all highly successful, so I'm not sure there is much I can particularly do to shape and influence, beyond what is already happening.  Perhaps that view from both sides of the fence, in terms of maintaining good capacity relationships, as well as ensuring we have clients that value us and want to trade with us, in the hybrid environment we operate in, is something we have proven we can do well and I can provide some insight into. 
Being the 4th wheel in amongst the insurer, broker and client relationship, is not always an easy place to be, but ultimately it comes down to doing the basics well and when you say you are going to do it.  If you do that effectively, people generally come back for more.